Women foulards
We present our new collection of trendy women's foulards for this year. A new season collection of women's foulards with a wide variety of models and the most current designs. Discover our complete collection of fashion accessories for women 4x4 Woman.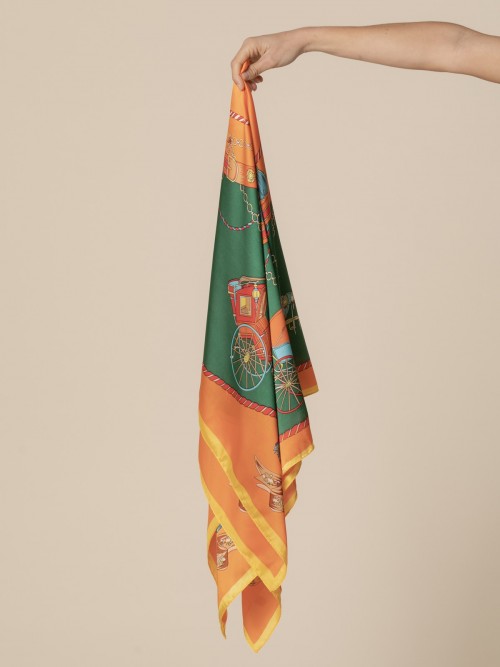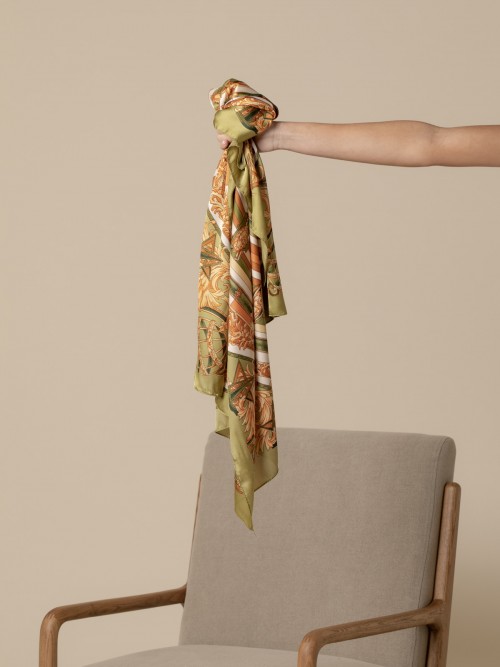 4x4 Woman is the right store, if you are looking for scarves for women . We have a wide variety of models so that you can be fashionable without giving up your own style.
The scarf is one of the most popular accessories for women, due to its versatility and comfort. It is a complement that combines perfectly with any look.
In the 4x4 Woman catalog you have at your disposal several models. For example, the vigoré wool scarf with fringes in beige and tile tones or the double-sided fringed scarf with a gray shine.
BUY SCARF ONLINE
In 4x4 Woman you can buy scarves online with the greatest comfort. On our website you will easily find the model you are looking for without wasting time. Although you can also call us if you need help. Our customer service will assist you and advise you on the most suitable scarf model for you.

Acquiring scarves online in 4x4 Woman is very simple , you only have to make the purchase in our ecommerce and, in a few days, you will receive it at the indicated address or in one of our physical stores throughout the Peninsula. Shipping will be free, if the amount of your purchase exceeds € 29.99. If once received, the scarf does not convince you, you can return it without any problem.
THE LATEST TRENDS IN SCARFS for women
scarves and scarves are ideal accessories to complete your look. G thanks to them you will have the opportunity to give a personal touch to your outfit. In our catalog you will find the scarf or scarf you need for every special occasion. Here we inform you more about this fashion accessory.
Fashion scarves
Among the most prominent models we find the women's bandana type scarves, a scarf model that became very popular in the 90s. The most popular designs are the paisley prints, also known like cashmere, they are the most representative. The pleated vigoré scarves, which you can buy online at 4x4 Woman, are also being a trend.
Scarves for winter
The scarf is a timeless accessory that can be used in any era. In winter it is common to see the classic crossed woolen scarves knotted at the back and with bobbin lace trims. Chunky scarves are sometimes replaced by women's scarves and kerchiefs. Also for shawls and stoles that shelter the same and are more versatile, since you can wear them on the shoulders, as a cape, wrapped around the neck or even on the head.
Summer scarves
At 4x4 Woman we also have scarves that are more suitable for seasons in which higher temperatures prevail. In the most summery scarves, natural fabrics predominate, such as silk, linen or cotton, in all their variety of plain colors and prints. This type of scarf is very useful, since the good weather invites us to spend long periods of time in the street and, sometimes, at night it cools a bit and it is good to have one of these accessories for women.
Pasmina
Pasmina always has a great presence in the collections of the big firms. This accessory is a kind of large blanket, much wider and more adaptable than other scarves, and you can wear it however you want. Used as a cape or bolero, it provides a touch of elegance, while tied with complex or simple knots it is possible to create an boho-chic look instantly. To convey an image of formality and glamor, nothing better than fastening it with brooches or ribbons. In 4x4 Woman we have a wide variety of pasmins, printed and with plain colors , so that you can choose the one that best suits your personal style.
Don't hesitate and take a look at the 4x4 Woman website. In our accessories section you will find a large selection of foulards, kerchiefs and scarves, scarves and many other accessories for women. Our creations are designed to adapt to your day-to-day needs, so you will move easily with them and you will feel favored no matter how old you are. Whatever your style, in 4x4 Woman there will always be an ideal scarf for you.